You knew it was coming! How could we talk about farm weddings, all things rustic chic, and not cover mason jars?  They are all the rage for everything DIY weddings, and they add the perfect touch to your barn wedding venue. I love seeing the different ways couples have gotten creative with their mason jars, going way beyond basic drinkware. Used as vases, lighting and more, mason jars are also showing up as artwork for Save the Dates, Bridal Shower invitations, and even paper products at weddings.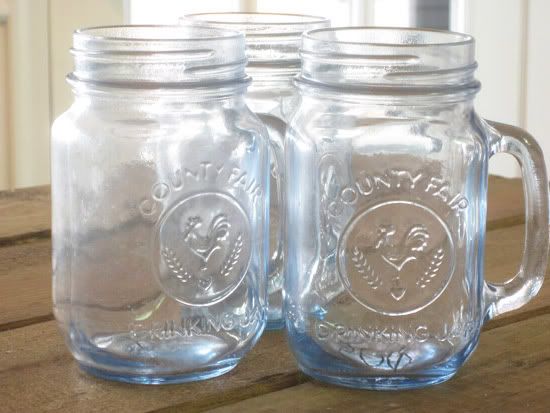 You guessed it, we used mason jars at our own wedding and are so happy we did. We ended up ordering County Fair Drinking Jar mason jars with handles (seen above) to serve as the main drinkware and seating assignments at our wedding. At the cocktail hour, everyone picked up their jar that had a 
kraft paper tag
 with their name and table assignment printed on it. We also had some signage so guests knew that the jars were their glasses for the night (though our bar did have backups) and they should take them home at the end of the evening as a little gift.  So we didn't go overboard with our mason jar use, we used a mix and match of mason and other collected jars to hold our flowers at each table. Each table had 3 to 5 jars of varying sizes holding a mix of flowers and we most certainly had some Ball mason jars in the mix! We also used twine to tie mason jars to the chairs lining the aisle at our wedding ceremony, filling them with flowers to help add a pretty touch to our outdoor ceremony.
So without further ado, here's a round-up of some of the more creative uses of mason jars I'm loving  to get you thinking about how they might lend the perfect touch to your farm wedding:
Lighting: DIY a mason jar chandelier or hanging lighting element for your farm wedding-
Mercury glass: Check out one of the many mercury glass DIY tutorials online and take your jars to the next level for your centerpieces-
Gold: Nothing says party like gold and sparkles-
Other Centerpiece Ideas: Gussy up those mason jars and then add flowers or a floating candle or, try your hand at a photo jar-
Wedding favors: Any parting gift for you guests can be made that much sweeter and cuter inside a mason jar-
Creative Drinkware: If you are going to go the drinkware route, fancy up those mason jars with a bow, paper straws or perhaps add a wine glass stem-
Ceremony: They're not just great for your reception space, add a beautiful touch using mason jars on your ceremony chairs or as part of your ceremony backdrop-
Happy planning!